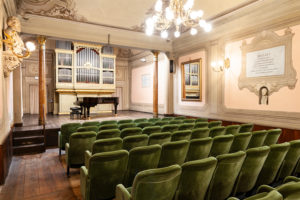 Eight exceptional Masterclass will take place at the end of the first edition of SOLO 
Bologna's Higher Education Course offers lessons with internationally renowned musicians
The first year of the Higher Education Course, directed by Andrea Griminelli, will end with eight Masterclass, all of them conducted by eight internationally renowned musicians. Lessons will take place in Bologna between September and December 2020 and they will all be in person (with the exception for the session with sir James Galway, that will be held in videoconference).
The first masterclass is planned on Saturday, September 5, with Albrecht Mayer, first oboist of the Berliner Philharmoniker. Afterwards, lessons with flutist Sir James Galway will take place (on Wednesday, September 16 on videoconference) and then, Wenzel Fuchs, the Berliner Philharmoniker solo clarinet, will hold his lessons (on Tuesday, September22). Following these first Masterclasses, others will take place: one held by Enrico Dindo, cellist from the Academy of Santa Cecilia (on Thursday, September24), one held by Pascal Moragues, solo clarinet from the Paris Orchestra (on Thursday, October15), one held by François Leleux, oboist of the Chamber Orchestra of Europe (on Wednesday, October21), one with Emmanuel Pahud, first flutist of Berliner Philharmoniker (on Thursday, October22) and, finally, one held by Dutch cellist Pieter Wispelwey (on Thursday, December3).
Students attending the Course SOLO will be the only active participant to the lessons. Each masterclass includes up to 30 external auditors' seats, for which people must sign up (the price is 50 euros for each masterclass). Only the first 30 applications for each masterclass, will be accepted. A certificate of participation will be issued at the end of each masterclass.
Lessons will take place in Regia Accademia Filarmonica, from 10 am to 1 pm and from 2.30 pm to 5.30 pm at the address Via Guerrazzi 13. Bologna. To sign up, please send an email (solo@solomusic.it), specifying the day and the chosen Teacher, also including your personal information and phone number. 
For more information: www.solomusic.it ; cell. +39 347 9001198
The first edition of the course SOLO had a great success. About 50 students had the possibility to follow the lessons of four among the most famous and appreciated Musicians worldwide: Andrea Griminelli, flute, Alessandro Carbonare, clarinet, Francesco Di Rosa, oboe and Giovanni Gnocchi, cello.
In October, SOLO will open registrations for the second edition. The Course, financed by the region Emilia-Romagna, started from a partnership between the most important regional institutions: University of Bologna's Art Department, the Accademia Filarmonica of Bologna and the Fondazione Scuola di Musica Carlo e Guglielmo Andreoli in Mirandola (MO). 
The University takes care of the scientific coordination and instructs university professors for lessons; the Academy provides locations of the lessons (for example, the renowed Sala Mozart), pianos and historical archives. The Fondazione Scuola di Musica Andreoli provides technical and organizational assistance.
Masterclass 2020 program
Oboe
Albrecht Mayer: September 5th 
François Leleux: October 21st 
Flauto
Sir James Galway: September 16th 
(videoconference)
Emmanuel Pahud: October 22nd
Clarinetto
Wenzel Fuchs: September 22nd
Pascal Moragues: October 15th
Violoncello
Enrico Dindo: September 24th 
Pieter Wispelwey: December 3rd